So last weekend I was at my parent's place celebrating my dad's birthday and they have a nice backyard where I could let my dolls hang out for a bit with me taking photograps. Though Anje was having a bit of a bad hair day (had difficulty getting her wig on straight), she was having a ball. Shinta is lovable as ever
Shinta speaks in red, Anje in blue


I love spring, everything is so colourful. Maybe we find sakura here?
It's getting warmer. Well, you might find a sakura tree in a Japanese garden. Mom, you don't happen to know if there is such a tree here?
Hmm, no, sadly. But there are plenty of nice things to see here.

Look Shinta, herbs for the kitchen. There's lots of it. What are we having tonight??
I don't know for sure. My mom won't tell anyone. But I've seen stuff in the fridge that looks very promising. I do know my mom bought fresh asparagus today which well get to eat tomorrow.
Asparagus go well with sashimi.


Sashimi? Sounds nice.


I like sammon grilled with fresh dille.
I think it would be nice to visit Norway. Eat lots of sammon and dille

Hihi, Shinta, I'm up here. Yippeee!


Anje, sweetheart. How is the view up there? Will it hold us both?
It's great, come on up!


Hmm, I'm not much of a climber
No worries, I'll give you a hand.


Isn't our foster mom a sweetheart

Two little dollies, sitting in a tree, eeeh, on a bird house.


What is it Shinta? Found a corpse?


Nah, dog left some soup bones over here.


Sun came out
Ah, sunshine is nice.
Mom, could you hand us the sunscreen? Don't want to get yellow skin.


Nice goldfish in here
Mom bought them for her dad. I hope they like it here.


They're hiding


There's one over here. There are four in total. I suppose they're resting after the ride home. Headaches from the cobblestones you know.


Right. Let's go look at other things.
Fish are nice, if we had a garden, we'd get some too. Hope they don't get eaten by cats or birds.
Well, they have a red furry guardian so I'm not worried.


Well, that's my moms vegetable patch. Wish I had a backyard, I have to make do with some flowers and herbs in pots and boxes in the window sill.


I'd know exactly what to plant in here. Some salad over there, daikon radish here, onions right across and a shrubbery in the corner.
A shrubbery my dear?
Ah yes, you see, I am one of the knights who say "NI"
*ROGLOL* (rolling over grass laughing out loud)


I'd like to own a horse and ride around the country side.


It is such a wonderful place.
Want to cuddle?


Yes. Hmm, Mom, please get yourself and that camera moving!


Nope! Heheh

Shinta, what is that red stuff doing over there? It is nice, and soft and furry and eeh, it smells a bit.


It is the big red furry guardian who keeps the garden safe.
What I'm probably smelling, is it's behind.


She looks sweet and friendly. Aw, I want to hug you!!!!!!!!
Katy the dog: "Keep off me, it's too hot for hugging!"


Now it's time to get back inside you two. Sit back and have some nice tea

I'd like some green tea please.
I'll have the spring blend, melange or whatever it is.
Untill next story
Photographing these two is such a lot of fun
Some of the pictures are a bit blurry. Have been trying out a new camera feature and they looked sharp on the camera's display, but not on the bigger screen. Anyway, photographing in daylight always works best.
Shinta in red, Anje in blue


My love, you've been working out for more than an hour. Perhaps you shouldn't excert yourself right now.


I'm allright Shinta. I'm feeling a lot better than I did this morning.


Ichi, Nii, San….


Just please be careful.


Switching to some kata's. Calm and concentration.


Pfffffff, now I'm finished.


That was a great workout. Honey, being a kendo-champion I should keep in shape. Let's practice together tomorrow.
That would be great. Practicing martial arts together, learning each other's techniques.
Just don't make me do any break-falls. That might be too stressfull for the little one.


I'll look after you both. It'll be fun.


Untill next story
It's been a while since I posted, been busy, changed jobs a couple of times, driving lessons. Anyway, I'm still attending conventions and I am still LARPing.
Last Abunai I thought I'd expand my cosplaying for a bit and added one of Kenshin's old rivals to my cosplay collection.
The green bag isn't part of it, that's Shinta's carrying blanket. Who the f*** is Shinta? He's my BJD.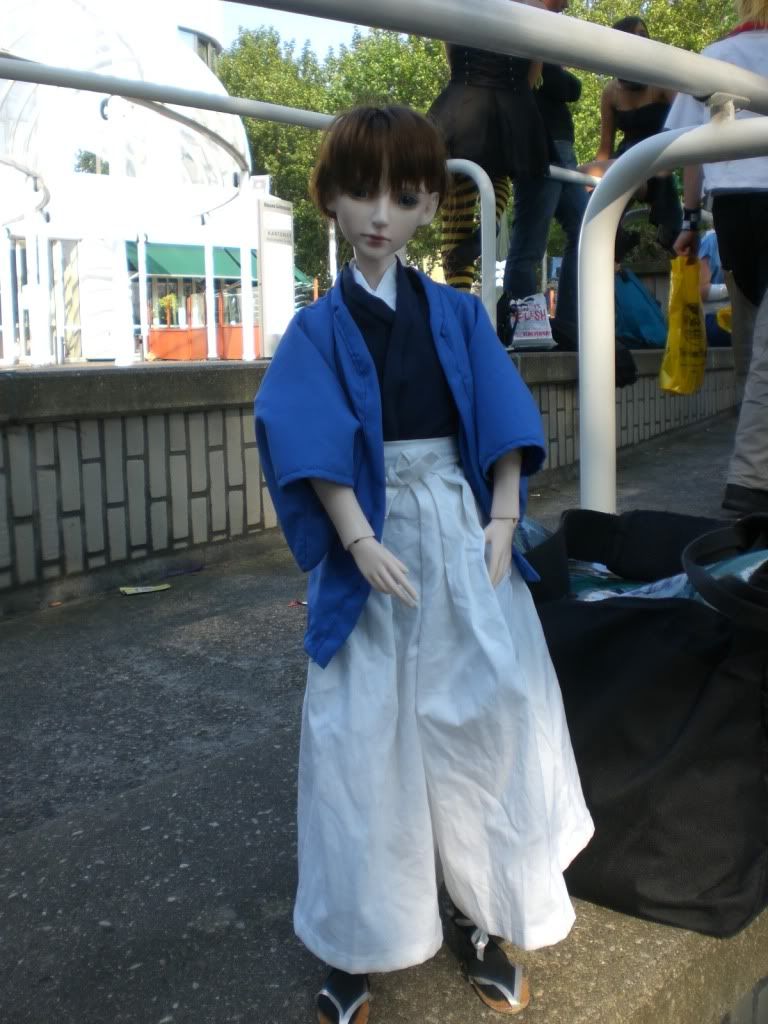 He's pretty awesome and I'm taking him to a Star Trek convention tomorrow. I'm still into Star Trek, always will be. I hope a good Star Trek LARP will come along someday. I know a friend of mine is working on one, but I think it's still going to take some time to get it all together. I'm pretty patient about this one because I'm busy with a lot of things right now anyway and these things need to be well set up for it to work. Building an entire star ship interior inside a large barn takes a lot of thinking and effort. I'm also much interested in an Oriental LARP, living according to bushido for a weekend, along with others who do the same, would be awesome. But anyway, I can excersize Japanese culture for a bit at Aderion, still being the only oriental player in the field. Some Kazé npc's came along, but anyway, there are only one thousand Kazé in the whole world there, so there's not much chance you'll meet a new one every day. Unless this setting was pretty small which is isn't.
Work is great, finally something in which I can really express myself. Atmosphere is great, nice people, no nonsense. Looking into the underground, whether by going over graphs and making calculations or viewing a drill core, it tells so much about how the land was formed and it shows some very local features at times. And my colleagues aren't such ambitious bitches or laid back parttime housewives like in the financial world. They are themselves, no stereotypes.
Last SR Legacy was such a great time. I had decided to pick up an old character again, the Krey elf who is married to a highranking Krey Lord. A fun relationship. She trusts him now in every way, but I don't think he can be trusted. Anyway, he did get her knocked up which was part of my pimping this character. I also gave her a tiny lapdog. As we went time in, all the other players were dropped somewhere in the forest first, and when all the other players were gone, I was informed that I had been studying in the mage guild house, fell into some magical sleep. And when I woke up, the city was empty. Turned out they were all abducted by the snake people who usually feed on cattle. But as the rifts were closed and magic energy was gone, none of their spells worked. When the rifts reopened, and magic returned, all of these spells fired at once. Because of my unborn child, I was left there. So after waking up, still sitting in the guild house, I notice the people are gone, and next there is banging on the cities' gate. Of course there is no way I can get it open, no key and too heavy. Fortunately there is a back entrance, which they found. But skaven and other looters found it too, so there were a couple of skirmishes with the skaven while I was inside with a couple of people making inventories of the guild houses making sure we'd know what might get stolen. My character's makeover worked out pretty well. Also added a new costume. Another great + was that I could lounge where ever I wanted and it was ok IC, except when I had to come along on that second portal mission to save the citizens of Segmen and the previous rescue group who hadn't been able to return (caught by snake people). Our mission also nearly stranded but we were able to make a deal with these snakes and get everybody out, including my 'dear beloved Krey Lord' whom the others were continously making name jokes about. I hope the next event will be in spring. I only hope the kid won't get kidnapped. There is a big chance it will happen, I think. I guess it depends on whom I'm with when it happens. House of healing should be safe, but being handed over to npc's is a gamble. But we'll see
. Got myself a cool picture with a bunch of drow
But next up: Aderion. Got myself some fleece today to make a winter version of the costume. November always is freezing. Last year we had a Legacy in november and we had snow. Anyway, being one of the healers means I'll probably have to spend a good deal of time in that tent outside. Also with that exotic flu going around, better not catch a cold or anything. Only had a mild one after last weekend. Could be I'm immune already as I had an unexplained cold in september. But I'm getting offtopic. I've bought two new skills, psycho healing and reading/writing native language. The character is a highly trained doctor, so she should have such basic skills. But then again, it takes years to be able to write enough characters to express oneself so this way it is kind of logical. I don't expect the Kazé to have a 26 letter system either. But game technically, it'll be that kind of system. I also hope to get my personal mission solved. Didn't have much time for that last time. I also probably didn't look in the right places. Anyway, I can try again in three weeks